Craigmore's Breeding Objectives
To breed light birth weight, easy calving cattle, with high growth rates - We intend to do this by buying bulls that have a low birth weight and a high growth rate at 400 days. These bulls are called outliers and usually appear in large herds. We think this is the direction to go because we are supplying bulls to beef and dairy farmers and a lot of our beef farmers also sell their bulls into the dairy industry. By being low birth weight calves will be born easier, which gives your client a higher calving percentage, which means more cattle to sell and less vet bills. We weigh all our cattle at 400 days to ensure we get the growth weight that we require. We only keep the heifers that are up to weight to keep the size in our cattle.

To breed cattle with good carcass data - This is the trait that we have been concentrating on. This is because our bulls are used over dairy cows which have very little muscle and fat. Beef herds should be breeding for it anyway. The cows that carry some fat get back into calf easier and do better.

To do this when we buy a bull we look at EMA, fats and IMF. To help our stud get these traits we scan our females and bulls annually. When we are choosing a bull to use in our stud we like the EMA to be in the top 10% with positive fats and positive IMF.

We are starting to see the carcass data coming through that we want and we can see it in the cattle.

To breed cattle under commercial conditions so EBVs are more accurate - We try and run our cattle in big mobs as much as possible and use the latest technology to manage them. In June 2009 we put in an automatic weighing system and crush and all cattle have electronic eartags. This stops the error of getting the wrong number and mistakes being made. This will make each weighing more accurate. With a large herd with think this is very important. This system also means that the weighing process is less labour intensive and quicker.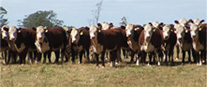 REFERENCE SIRES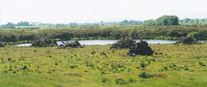 THE FARM
DAVID & SUE HENDERSON
PH: 07 825 2677
MOB: 021 166 1389

429 RUKUHIA ROAD, RD2, OHAUPO
CRAIGMORE.HEREFORD@GMAIL.COM